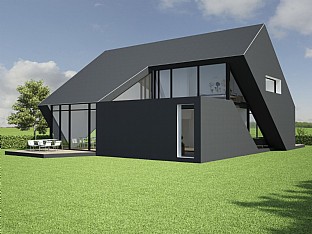 M2
A-House, Split House, Zip House and Vip House are the contributions of C.F. Møller Architects to the construction company M2, which builds architect-designed single-family houses and summer houses.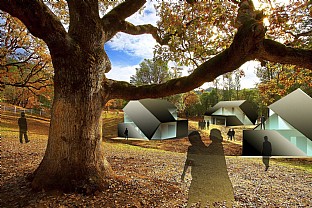 Facts
Architect
C.F. Møller Architects
A-House
The A-House provides a new interpretation of the traditional one and a half-storey house. The distinctive incisions and the radical window design have completely changed the architectural expression.
Split House
Two staggered building volumes comprise the fundamental elements in Split House, which C.F. Møller Architects have designed to fit into the landscape. The house's white facades light up in the leafy surroundings, while the displacement between the two building bodies provides a natural integration of the level difference into the site and creates room for two screened-off terraces.
Zip House
The basic idea behind the design of the Zip House holiday home was to achieve maximum flexibility and functionality. The building is constructed on the basis of two staggered blocks which interact with the sculptural form. The blocks create a natural harmony between outdoor and indoor life, further emphasised by the large glass panels.
Vip House
Basic geometric shapes provided part of the inspiration for Vip House, which is a long way from the classic holiday home. The tight architecture is characterised by simple lines, with material changes and incisions which help to give the building lightness and character.
Gallery