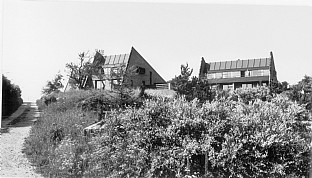 Solklint, 5 cluster houses in Egå, Denmark
The five buildings are situated on a large terrace that concludes a terrain sequence towards the flat Egå valley and Vejlby Fed.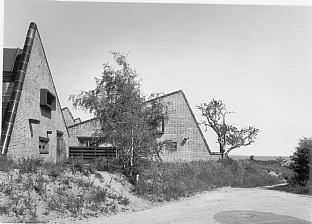 Facts
Client
The Building Consortium Solklint
Architect
C.F. Møller Architects
The design of the five buildings is determined by the location at the top of a point in Egå, near Aarhus, and the access to the individual homes is through a common courtyard with seating, playgrounds etc.
From the courtyard's tile-clad plaza, the houses arise like a flower that unfolds and crowns the terrace. Narrow views and passages between the houses link the courtyard with Vejlby Fed, Egå and the bay. Each house has a view of Aarhus Bay.
The houses vary in size and each of them are designed around a common living space going through two storeys and following the building profile.
The complex is constructed in red, hard-burned brick, with wall crowns and sills of reversed Hasle stoneware pipes. Ventilation ducts, spews from the balcony and "blinkers" provide decorative details in the gables.
Gallery