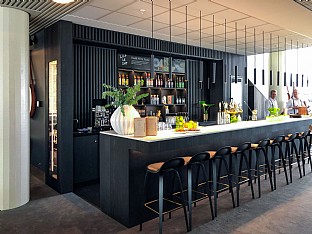 Maestro, Cocktailbar
New cocktail bar in a durable and attractive design adapted to the other elements of Musikhuset Aarhus (Aarhus Concert Hall) in terms of materials and expression.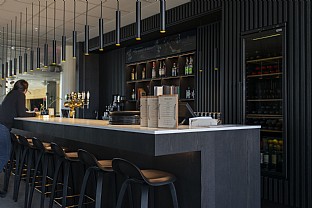 Facts
Architect
C.F. Møller Architects
C.F. Møller Architects have designed a new cocktail bar for Musikhuset Aarhus. The cocktail bar is called Maestro and is located on the balcony above the café. The bar is intended as a brasserie-and-bar concept combining modern and classic approaches. This applies not only to the combination of cocktails and menus but also to the design of the new bar and the materials used.
Use of excellent, durable materials has been prioritised in the bar's design – a design that builds on the black-and-white theme that has gradually replaced the original interior design and was most recently used in the establishment of a ticket-sales facility in 2016. Veneered panels and black-stained oak for trims have been used as a constant element. The bar's 5.555 m floating serving counter, where guests sit and stand, is topped with white quartz composite inspired by the white marble floors of the foyer. Small brass elements create nuanced expressiveness and act as a mood-creating reference to the original concert hall.
An emphasis has been placed on the bar always being welcoming and integrated. All technical equipment, machinery and LED lighting is included in and integrated into the design of the bar, which can be completely secured and closed off outside opening hours.
The new bar is an extension of Musikhuset's offering to guests, who are now being given the opportunity to meet in a totally new way – in intimate and relaxing surroundings, with an excellent view of the entire foyer area.
Gallery