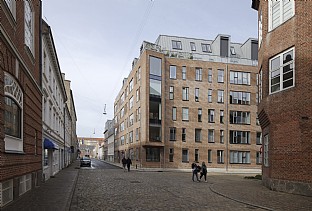 Teatergaarden
A unique mix of owner-occupied and social housing in one singular building that both reinterprets and integrates with the existing architecture in the city centre of Aalborg in Denmark, while supporting diversity and urban life.
Facts
Client
Himmerland Boligforening og Ejendomsmæglernes Fond
Size
5,200 m², of which 750 m² renovation and 750 m² private
Architect
C.F. Møller Architects
Landscape
C.F. Møller Architects
Awards
Aalborg Municipality Building Award. 2021
Teatergaarden is a new building combined with a renovation and modernization of an adjacent building located on a prominent corner in central Aalborg just off Budolfi Plads, and in close proximity to Boulevardens red homogeneous square houses. The building supports the Municipality of Aalborg's plans for urban renewal and infill in the city centre to create a diverse urban life.
The building is adapted to the architectural features of the area and yet, it stands out as a corner building with a distinctive appearance, reflecting the building's variety of apartment types, where there used to be a parking lot. It contains 48 apartments and four penthouses in a mix of social and owner-occupied housing.
Distinctive and integrated
Teatergaarden is thus constructed as a single building, but is visually divided into townhouse facades, continuing the structure that characterises the variated street scene in the area, including stairwells and doorways.
The main architectural feature of Teatergaarden is a unifying roof structure, which "stitches" Teatergaarden together with the surrounding buildings and creates a building that both fits into its environment and appears as a contemporary and modern building. This can be seen in the shape of the roofscape, which is a reinterpretation of the Boulevard's distinctive high mansard roofs, and the use of bricks to match the area's upper buildings. The corner of the building has a striking appearance through a distinctive cantilevered bay that faces the Boulevard, forming a family unit with the many bay windows and building protrusions seen on the Boulevard's houses.
Gallery