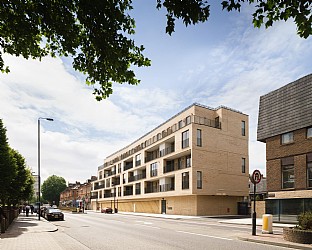 Elmwood Court
Elmwood Court is a five storey, affordable housing scheme near Battersea Park, London that continues the tradition of the Victorian terrace.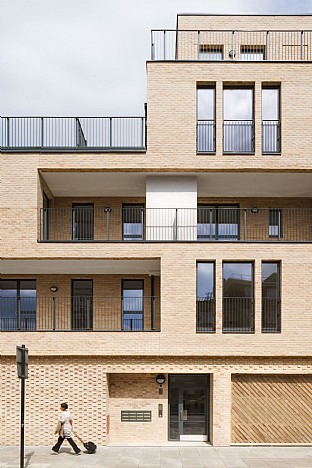 Facts
Size
1,500 m², 22 units and retail space
Engineering
Curtins Consulting (structural), Frankham (MEP)
Architect
C.F. Møller Architects
Landscape
C.F. Møller Architects
Awards
Brick Awards - shortlisted in the Best Small Housing Award. 2016
A ground floor retail space and 22 residential units are built upon an open, underutilised car park that has been transformed into a shared garden which acts as a new focal point for an established Peabody estate and provides more residents with access to outdoor space. The majority of apartments benefit from dual-aspect living spaces and two balconies, one facing southeast and another overlooking a new communal landscaped space.
The building's façade composition of projecting living spaces on alternate floors enlivens the urban realm and reinstates the Victorian line of the street. This arrangement maximises the courtyard space to the rear and offers clearly defined block entrances flanking the retail space.
Deep inset balconies with a southerly aspect maintain a flat brick façade in keeping with the street's established character and create a buffer space between the road and private spaces. Full height openings throughout the scheme maximise daylight penetration to all rooms. Upper-level setbacks and shifts in geometry lighten the massing of the block and reduce its scale in response to its urban context.
The façade is held in light coloured brick – a material found abundantly within the local vernacular, which has immediate associations with domestic and residential architecture.
Brick is an extremely long lasting and durable material, which ages gracefully. Our approach is to achieve a simple and understated expression of good quality and with a close relation to the character of the local environment.
The building has been designed to achieve Code for Sustainable Homes Level 4. The units are 100% Lifetime Homes compliant and the project provides two wheelchair accessible 2-bedroom apartments.
Gallery