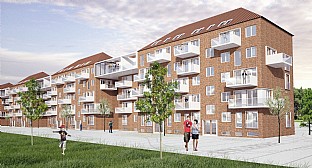 Himmerland Housing Association, department 3
Department 3, which is one of the oldest in Himmerland Housing Association, is to undergo extensive renovation and improvement of front areas towards the street, courtyard spaces, building carcases and the actual flats.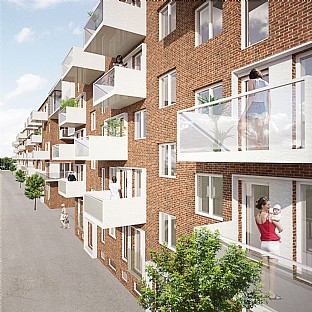 Facts
Client
Himmerland Housing Association (with financial support from Landsbyggefonden)
Size
13110 m², 210 apartments
Engineering
Brix & Kamp A/S
Architect
C.F. Møller Architects
Landscape
C.F. Møller Architects
Collaborators, other
Landsbyggefonden
There are originally 105 2-room flats and 105 3-room flats. This conversion allows for a more differentiated range of flats, and the 195 renovated flats in total will include 2-storey flats as well as large 4/5-room flats.
The department did not face letting problems, but found it increasingly difficult to retain new residents for longer periods. The very small bathrooms, poor acoustic insulation between the flats, and many residents' wish for a flat with a balcony, were a large part of the reason.
70 flats are being converted to fulfil modern accessibility requirements, including lifts to all levels, spacious new bathrooms, and disabled-friendly layout of flats and rooms. To compensate for the loss of area due to the establishment of lifts, a zone will be built with balconies of different sizes, as well as new residential floorspace. These homes will be situated in the parts of the complex which divide the courtyard spaces into smaller, straightforward units.
Breaking through the blocks in three places will create a new continuity between the pleasant courtyard spaces, giving them additional recreational qualities.
Gallery