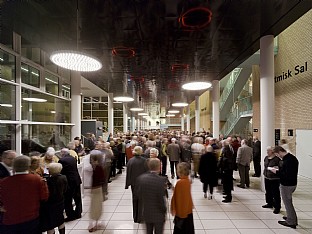 The Concert Hall, interior design
C.F. Møller Architects has designed the extension of the Concert Hall, Aarhus, doubling the area of the original building by Kjær & Richter, including a Symphonic Hall, a Rhythmic Music Hall, a Chamber Music Hall and premises for the Royal Academy of Music, Aarhus – thereby turning the entire complex into a unique concert house and place of learning.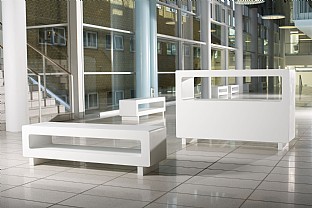 Facts
Client
Municipality of Aarhus, The Concert Hall Aarhus, Aarhus Symphony Orchestra, the Royal Academy of Music, Aarhus and the Filuren Theatre.
Construction
Welløv + Ottesen A/S
Architect
C.F. Møller Architects
C.F. Møller Architects was responsible for the new reception area and the design of the waiting furniture for the foyer area, as well as for the decor of a new kitchen and cafeteria, with custom design of, amongst other things, the buffet and the general signage. Everything has been kept in the same material palette and colour scheme, i.e. tranquil, simple and light, with the use of, inter alia, white composite materials to create architectural coherence and interplay with the characteristic yellow brick walls and the distinctive contributions of artist Ingvar Cronhammer to the building, including 17 large LED chandeliers. This includes, for example, the Buco range of waiting furniture with benches and foyer tables, which have apertures that allow the architecture of the space to stand out.
The task of turning the two buildings into one necessitated a comprehensive analysis of the users' daily lives and the features and relative positions of the spaces. The work produced a sign manual in which the signage also functions as graphic ornamentation.
Gallery