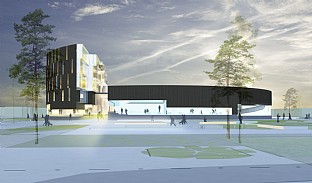 Ängelholm public swimming baths
From the outside, the baths present themselves with a clear and recognizable circular shape. On the inside, you find a diverse and varied interior landscape or grotto. As the baths are located on the verge between city and woods, the idea is to let greenery become the dominating element - for instance, green elements are integrated into the bathing landscape through openings in walls and ceiling, and enhance the cave-like interior with its multi-level, terrassed floors that are echoed in shifts of ceiling heights.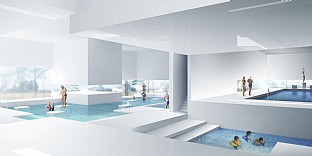 Facts
Architect
C.F. Møller Architects
An inner street runs north-south, connecting the interior spaces and leading guests to the pools. They main public functions such as changing rooms, café etc. are serviced off this street.
The baths will have a distincly light and nordic appearance, with friendly and durable materials, including facades as vertical wooden slats in various lenghts over a textured concrete base.
Gallery