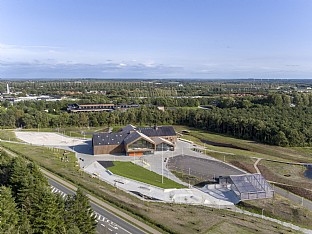 The Heart in Ikast - Activity Park
'The Heart' is Ikast's new activity and gathering point, and it is buzzing with life from pupils at the International School Ikast-Brande and many other users who utilise the multi-use hall, the reflection room, the street-sport hall etc.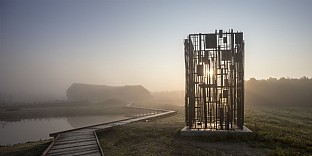 Facts
Client
Ikast-Brande Kommune, International School Ikast-Brande, Realdania og Lokale og Anlægsfonden
Architect
C.F. Møller Architects
Landscape
C.F. Møller Architects
Artist
Kjerstin Bergendal, Cai-Ulrich von Platen, Jørgen Carlo Larsen
The activity park around the entire building is a dynamic and sustainably designed landscape that connects 'The Heart' with the surrounding schools, creating space for activities all around the building. They are based on users' wishes and needs, and can be used in interaction with the building's interior, or independently.
The activity park and the activities themselves have been designed to be as flexible and spatial as possible. The aim is for each activity to have at least a dual function and preferably several functions, and for the composition and design to inspire informal meetings, organisation of spontaneous events and friendships between people of different ages, nationalities and circumstances. The activities and facilities include skate and BMX bowls, running slopes, cycling pump tracks, a multipurpose track, a sandpit with volleyball, outdoor fitness and parkour, a pétanque court and a campfire site.
The project achieves a natural transition around 'The Heart' – between an urban landscape along the main road Vestergade and a greener landscape extending towards undisturbed forest and fields to the south, around a new rainwater lake. This transition reflects the topography of the site and is reinforced by the placement of activities in relation to 'The Heart', so that the intense and noisier activities are sited along Vestergade and the street-sport hall to the north, whilst slower and quieter activities are to be found down towards the forest, and overlooking the fields to the south.
Gallery