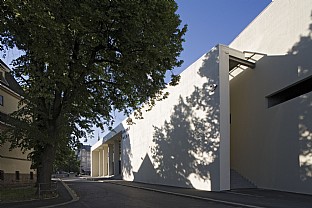 Bislett Stadium
Bislett in Oslo is the most famous sports complex in the Nordic countries, located in Oslo city centre in one of the city's very characteristic and distinctive neighbourhoods. It has been a sports centre since 1907, and the first stadium opened in 1922.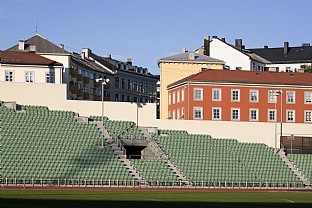 Facts
Client
Oslo Kommune, Culture and Sports Authority
Size
18,000 m²/holding 15,000 seats
Year
2004-2005, 2005-2009 additional work
Competition
1st prize in international competition. 1995
Construction
Turnkey Contractor:NCC
Architect
C.F. Møller Architects
Collaborators, other
Project Manager: Terramar tm Building Manager: Erstad & Lekven Consultants: Dr. techn. Olav Olsen, Byggeteknik, Multiconsult, Geoteknik Sweco Grøner, VVS-teknik. NCC
Awards
National Building Quality Award, honourable mention, Norway. 2006
Building of the Year. 2005
1st prize in international competition. 1995
In 1995 C.F. Møller won the competition for a new Bislett Stadium. The most important challenge of the commission was to adapt the new Bislett Stadium to the city and its surroundings. The interaction between the Bislett perimeter wall and the surrounding buildings, which are built in a variety of architectural styles, produces diverse and interesting public places. From within the stadium, you have a clear sense of the city around you.
Bislett Stadium was inaugurated for the international Bislett Games in July 2005.
Gallery