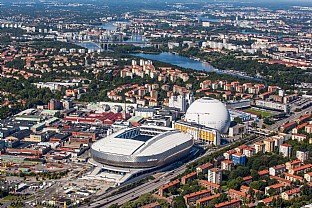 Framework agreement Stockholm Globe Arena Fastigheter AB
C.F. Møller Architects is providing architectural services under a four-year framework agreement for the development of SGA Fastigheter's property portfolio, which consists primarily of stadiums but also includes residential, office and retail properties.
Facts
Client
Stockholm Globe Arena Fastigheter AB
Architect
C.F. Møller Architects
The main mission of the real estate company SGA Fastigheter, owned by the City of Stockholm, is to own, manage and develop the stadiums in area around the Stockholm Globe arena, which include Tele2 Arena and The Globe (currently Avicii Arena), as well as SkyView, Hovet, Annexet and the entertainment destination Tolv Stockholm. In addition, SGAF owns land that is earmarked for development over the next ten years for housing, offices and retail, among other things. The framework agreement includes design assignments aimed at developing and enhancing SGAF's property portfolio, the design of conversion and construction projects, and advisory services for property-related tasks.
The biggest changes in the coming years will be the integration of the arena area into the new Slakthus area, which is one of Stockholm's largest development projects, and maintenance work on The Globe. Annexet and The Globe will be rebuilt and together with Tele2 Arena, Stockholm will have a modern and competitive arena for all types of indoor and outdoor events in music, sports and culture.