Swedbank Stadium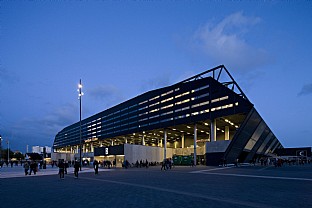 Client
PEAB Sverige AB, MMF Event
Address
Malmö, Sweden
Size
24000 seats
Year
2006-2010
Competition
1. prize in competition. 2006
Swedbank Stadium is a modern and elegant football stadium which focuses on providing a close relationship between the players and the public, to create the maximum experience.
The human scale comprises the primary point of departure for an architectural design which is readable and recognisable at various levels in the arena, foyer and exterior.
The stadium enjoys a central location in the Stadium Area, Malmö, immediately adjacent to the classic Malmö Stadium, built in 1958. Between the old and the new stadium, a connecting square is built: the Stadium Square. Overlooking the square is a restaurant with room for 2,000 sitting guests. The restaurant – like the shops, conference facilities, offices, etc. – is open all year round and functions like a new living-room for the citizens of Malmö. The stadium meets the criteria for a category 4 stadium under UEFA rules, and is the home ground of Malmö FC.
Team
Construction
PEAB
Engineering
Sweco-Bloco, Byggteknik i Skåne, Strängbetong, Tyréns
Architect
C.F. Møller Architects
Collaborators, other
FOJAB arkitekter i Malmö
Awards
European Steel Construction Prize. 2009
Swedish Steel Construction Prize. 2009
1. prize in competition. 2006
References
2012 Architecture Report 2012 p. 132
2012 Forms and meanings, The World's latest top cultural architectures p. 180 - 187
2012 Public Construction p. 334 - 341
2011 1'ARCA - may 269 s. 90 - 93
2010 Interior Public space 2010 # 12 s. 148 - 151
2009 LANDSKAB, 07 2009 s. 164