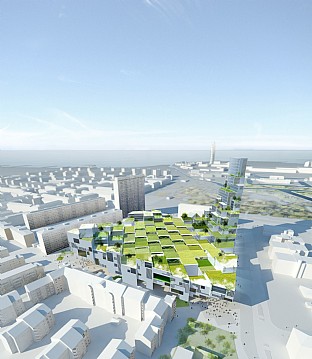 The World Village of Women Sports
The task is to create a unique concept for the world's most advanced centre for research and education in women's football and sports. The approximately 100.000 m2 will include sports facilities, offices, housing, and research facilities.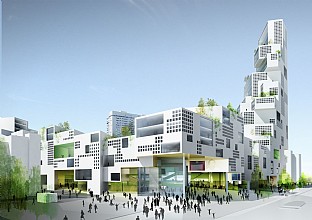 Facts
Client
The World Village of Women Sports

Architect
C.F. Møller Architects
Landscape
C.F. Møller Architects
The proposal is taking its cue from the term 'village', and the soccer pit becomes a central plaza in the middle of the city. By lifting most of the buildings' volume off the ground, an open and continuous ground floor is created, allowing the complex to interact with the surroundings, and the sports activities to become exposed and stimulate the urban context.
To preserve existing services infrastructure on the plot, a slightly inclined base is created, containing the sports facilities. This base ties together the various parts, and integrates spectator seating without blocking the sightlines across the village.
The composition of volumes creates a lively roof-landscape, which corresponds to the varied nature of the surrounding buildings. In the north-east corner, where overshadowing is minimal, a tall tower rises to become a landmark for the city of Malmö as well as for The World Village of Women Sports.
Gallery