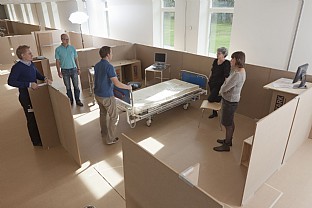 AUH, sector planning
The largest hospital construction project in the history of Denmark, the New University Hospital in Aarhus, will be built onto the existing Aarhus University Hospital, Skejby, to form a single hospital complex. The New University Hospital will be the size of a Danish provincial town. It will also be the largest workplace in Aarhus.
Facts
Size
216,000 m² new building, 159.000 m² rebuild = 375.000 m², ground area: ca. 970.000 m². 797 beds, 43 dialysis, 80 hotel beds.
Client consultant
NIRAS A/S
Engineering
Rambøll Danmark A/S, Alectia A/S, Søren Jensen Rådgivende Ingeniørfirma A/S
Architect
C.F. Møller Health
Collaborators, other
Lohfert & Lohfert AS
The hospital is designed to function both as a university hospital, regional health centre and basic treatment hospital for citizens of the Region.
C.F. Møller Architects is part of the consortium that serves as the common consultant on the project, and C.F. Møller Healthcare is playing a central role in relation to the function planning and activity and capacity analyses.
The hospital will provide a workplace for around 9,500 staff members, and since 2008, C.F. Møller Healthcare has worked on an ongoing basis with user involvement, in consultation with around 500 representatives from the clinical departments and service functions. This user consultation aims to ensure that everything from the overall concept and the design of the main function programme and sub-function programme to the outline and project proposal stages can be influenced, inspired by and anchored in the everyday clinical practice of the future users.
Hospital projects of this nature and magnitude provide unique opportunities to rethink the clinical workflow and the underlying supply logistics. By involving the clinical departments and service departments right from the initial design phase, the architectural work has been able to reflect and support the clinical and operational needs.