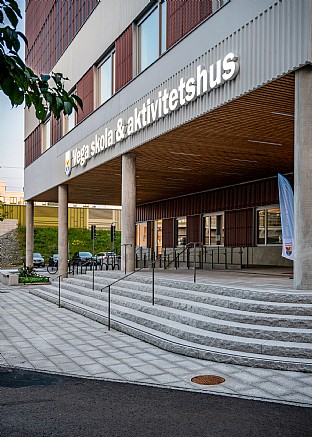 Vega School & Activity Centre - Signage
Comprehensive Signage Concept for Vega School & Activity Centre with the aim to establish a consistent visual identity that not only facilitates navigation but also enhances the school's character.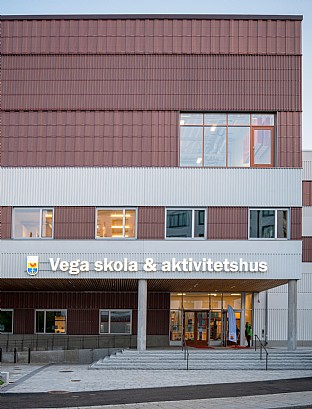 Facts
Architect
C.F. Møller Architects
Landscape
C.F. Møller Architects
Artist
Knee-Deep by Molly Haslund and architect Aspasia Balta, placed in the courtyard. Lines in Motion by Jakob Ojanen, located in the central staircase. The Vega Sphere by Space Popular (Lara Lesmes & Fredrik Hellberg), located in the library.
Vega School & Activity Centre is a unique gathering point in the district that offers space for everyone, young and old alike. Here, education, culture, and leisure come together under one roof. Located in the heart of Vega, just south of Stockholm, it strengthens the area's identity and is highly visible to visitors. Its proximity to the station makes it a natural meeting place and a distinctive landmark.
The signage program for Vega School & Activity Centre includes both outdoor and indoor signage and is based on carefully considered choices of materials, colors, and design elements to harmonize with the surroundings. The concept emphasizes contrasting color choices and clear graphic design to ensure readability and distinct messages. The program builds upon successful principles from nearby schools' signage programs, thus connecting the visual expression within the municipality.
Balance between functionality and aesthetics
Outdoor signage encompasses the development of a wayfinding system that efficiently guides visitors and users through the school's premises. Through flow analysis and defined areas, strategic suggestions for signage placement were presented, which not only facilitate movement but also complement the building's architecture and expression. Entrance and overall map signs were supplemented with smaller directional signs.
Indoor signage is a crucial part of the project, focusing on creating intuitive and smooth wayfinding within the building. By studying movement patterns and logistics carefully, areas where signs are most essential were identified. The signs were designed to integrate into the interior while clearly and effectively communicating to facilitate quick orientation.
C.F. Møller Architects have also designed the building and the landscape.
Gallery