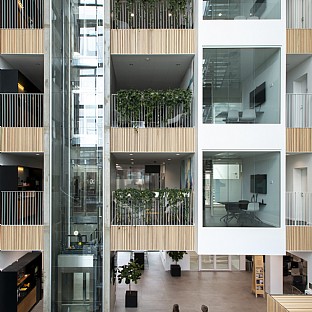 Nobelparken - extension with office building
A new block in Nobelparken that brings together COWI's employees in Aarhus and creates interaction between the departments.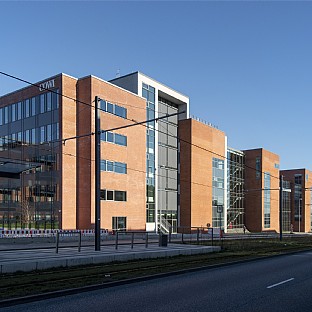 Facts
Client consultant
C.F. Møller Architects
Architect
C.F. Møller Architects
Landscape
C.F. Møller Architects
The Aarhus branch of the engineering company COWI has been in Nobelparken since the complex was built in 1997. COWI wanted to gather all its Aarhus employees under one roof while staying in Nobelparken.
COWI's expansion is designed as a natural extension to the Nobelparken complex's characteristic block structure, with its tall buildings in red brick. In this way COWI's new building forms part of the existing serial block composition and is constructed with the same brick as the original blocks.
The main entrance is located on the ground floor, along with the reception and canteen. Meeting facilities, offices and informal conversation rooms are located along corridors illuminated by daylight through a west-facing glass facade. The corridors have the appearance of floating platforms connected by a single staircase that rises through all the floors and creates a connection between the departments and employees. This meets COWI's request for a design that promotes interaction between departments.
The staircase leads up to a roof terrace with magnificent views of Djursland to the east and the Marselisborg forest belt stretching along the coast to the south. With its liberal use of glass facades and an architectural style that blends in with the original block structure, the new building is a worthy finish of the northern part of Nobelparken.
C.F. Møller Architects acted as client consultant for the project proposal and completed the main project on the shell building and the landscaping.
Gallery