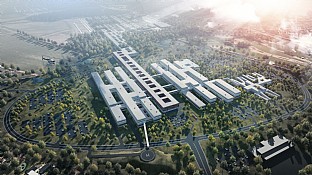 New OUH - Client Advisor
As the client consultant for the new Odense University Hospital (OUH), C.F. Møller Architects will ensure that the building offers the best possible framework for patient treatment, education and research through a coherent structure that is at the same time flexible, so that the hospital can easily develop in line with new technology and new requirements.
Facts
Client
The Region of Southern Denmark
Size
212,000 m² somatic, 25,000 m² psychiatry and 36,000 m² university - 728 beds
Client consultant
C.F. Møller Architects Niras
Architect
C.F. Møller Architects
Landscape
C.F. Møller Architects
Collaborators, other
Langebæk, Nosyko
The hospital is the only one in Denmark directly connected with a university, namely the University of Southern Denmark, thereby providing a unique environment for interdisciplinary education and knowledge-sharing.
As the client advisor for the new OUH, C.F. Møller Architects has an overview and provides continuity during the implementation of the comprehensive hospital project. The project comprises 250,000 m² of complex hospital construction, and consists of many different parts and factors, all of which must be brought together to form a single whole. Logistical, work-environment and patient factors need to be combined in this context, to create coherent and healing architecture. In this process, as client advisor, C.F. Møller Architects is helping to ensure that the new OUH meets the expectations for the project.
C.F. C.F. Møller Architects has developed conceptual-solution and competition programs that describe the soft and hard guidelines for the project – from vision and application of healing architecture through to finance, timetabling and medical factors – all matters that C.F. Møller Architects has advised on throughout the project, in the light of experience of large, complex construction projects. C.F. Møller Architects has also assisted with user processes, whereby various user groups are involved in the development of the project, in order to obtain important knowledge from patients and relatives.
In 2017 the project's tender form was changed from all-inclusive consultancy to a turnkey contract. C.F. Møller continues to provide client advice.