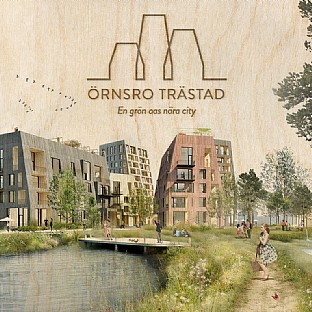 Örnsro Timber Town – Identity
Identity work for Örnsro Timber Town, based on the architectural ideas for the project with two blocks in central Örebro, where wooden houses are interspersed with modern environmental thinking.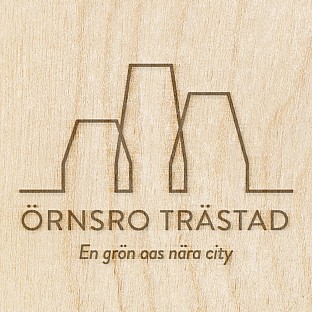 Facts
Client
Slättö Förvaltning AB
Architect
C.F. Møller Architects
Örebro municipality is one of the most expansive municipalities in Sweden, which makes it important to find a position for Örnsro Timber Town that feels unique. Together with Slättö Förvaltning, C.F. Møller Architects has developed a visual identity and platform consisting of graphic expression, logo, tagline, tonality and presale material in print and digital form. Detailed fact sheets for living have also been produced for the apartments, and visualisations have been developed during the project. The design of the logo was taken from the shape of the buildings and the wooden feel is reinforced by the fact that the logo is always burned into the wood, regardless of the communicative device. A challenge of the assignment was to create a clear message hierarchy for communication and marketing. The project has a breadth and many different qualities that also resulted in the proposal winning Örebro municipality's 2016 land allocation competition.
High interest
In Örnsro Timber Town you can choose between many different types of apartments. All of them are located over corners, have generous light inlets and patios or balconies with the possibility of local cultivation. All the houses are built with a clear urban side facing the neighbourhood streets and the other side facing the green area by Svartån. With new technical solutions and smart design, together with sustainable construction in wood, the aim is to encourage all residents and visitors to live in a more conscious and environmentally friendly way. Interest in the homes in Örnsro Timber Town is very high and the local estate agent broke records in the number of expressions of interest.