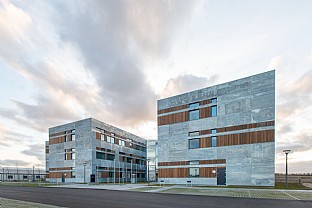 AU-FOOD
The bringing together of Aarhus University's food research environments in the same building, AU Food, is intended to promote closer integration of the research and education environments and to make it easier for students and researchers to participate in interdisciplinary activities.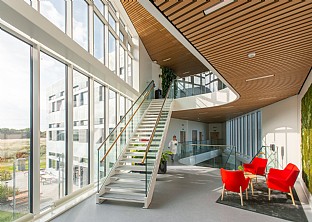 Facts
Client
Forskningsfondens Ejendomsselskab (FEAS)
Size
9,500 m² total - Laboratories and offices 7,000 m², Greenhouse 2,500 m²
Engineering
Søren Jensen Rådgivende Ingeniørfirma
Architect
C.F. Møller Architects in collaboration with Rambøll
Landscape
C.F. Møller Architects
Collaborators, other
Conservatory consultant: Jørn Rosager
To strengthen and unite the various research environments within Aarhus University's food research department, the university wanted to bring together the Department of Food Science and Argo Food Park in Skejby, in a new building called AU Food. A closer integration of the institute and the university's other research and educational environments makes it easier for students and researchers to engage in interdisciplinary activities. AU Food comprises an office and laboratory building, a greenhouse and semi-field facility with experimental soil for orchards and related buildings.
Architecture that encourages research
The architecture places emphasis on creating an environment with the opportunity to meet across different professional groups and research environments. This disseminates the research activities and leads to knowledge sharing and inspiration for new and ground-breaking research. AU Food is built in three-storey short staggered lengths, connected by a transverse foyer and an open atrium. Between the buildings, green, intimate and sheltered garden spaces have been established. The building's research functions are equipped with innovative and modern laboratories with research offices and meeting rooms. The entrance level, centrally located in the building, also contains a café, meeting room and communal room, which are openly connected to the foyer, which is bright and open with three-storey high windows. The façades of the building are made of galvanized iron plating with windows and window bands partially divided by wooden slats. The different materials form individual patterns in the window bands around the building.
Gallery