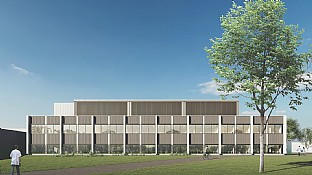 UBP Research Hub
Research Hub is the launchpad for and the development of a design for laboratory spaces that facilitates Uppsala Business Park's continued expansion.
Facts
Architect
C.F. Møller Architects
Landscape
C.F. Møller Architects
Research Hub is a new building positioned next to "Building 5", which relates to it's existing structure,media pathways, incoming transport routes and development history. It is a respectful addition to and progression of a typical laboratory environment. The new laboratory building is adaptable and flexible to future needs – a model that can be adapted to other locations in the park and possibly to properties elsewhere. Great emphasis has been placed on the connection to existing laboratory buildings.
The laboratory layouts have been effectively planned and allow up to four tenants per floor. The entrance to the new extension is from the main thoroughfare. Upon entering there isa public zone for meetings and breaks. The layout is composed of two corridors, with wet labs in the middle of the building and offices on the outer edges. The office areas are comprised of fixed spaces, With both single-module and multimodule rooms provided. The provision of transverse corridors has been planned and prepared, and can be implemented where necessary.
Open and transparent laboratory environment
The design is adaptable and can be installed in different arrangements. This allows for a number of different lab configurations to meet the needs of tenants of varying size. The concept offers a reasonable degree of flexibility. In order to create an open and transparent laboratory environment that encourages the exchange of knowledge and innovative interdisciplinary projects, the walls between laboratories and office zones are floor-to-ceiling glass walls wherever possible. The Research Hub represents a sustainable environment that provides the ideal conditions for existing and new customers to grow and develop.
Gallery