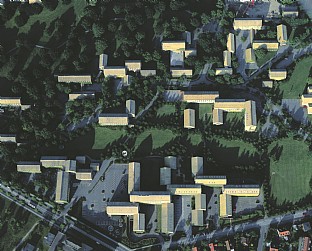 Aarhus University
The University of Aarhus, which dates from 1931, is a unique and coherent university campus with consistent architecture, homogenous use of yellow brickwork and adaptation to the landscape.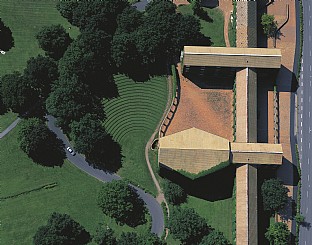 Facts
Client
Danish Ministry of Education
Competition
1st prize in open competition. 1931
Framework agreement 1996-
Architect
C.F. Møller Architects
Landscape
C. Th. Sørensen and C.F. Møller Architects
Awards
Selected by the Danish Ministry of Culture for the canon of Danish art and culture, a canon comprising indispensable Danish works of art. 2006
1st prize in open competition. 1931
Framework agreement 1996-
The University of Aarhus, with its extensive park in central Aarhus, includes teaching rooms, offices, libraries, workshops and student accommodation. The university has a distinct homogeneous building style and utilization of the natural contours of the landscape. The campus has emerged around a distinct moraine gorge and the buildings for the departments and faculties are placed on the slopes, from the main buildings alongside the ring road to the center of the city at Nørreport. All throughout the campus, the buildings are variations of the same clear-cut prismatic volume with pitched roofs, oriented orthogonally to form individual architectural clusters sharing the same vocabulary. The way the buildings emerge from the landscape makes them seem to grow from it, rather than being superimposed on the site.
The University has won renown and praise as an integrated complex which unites the best aspects of functionalism with solid Danish traditions in form and materials. C.F. Møller has directed the design of the university buildings from the beginning to the present day.
Gallery