Danish Neuroscience Research Centre - Client consultancy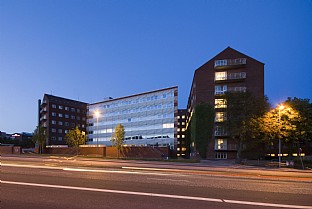 Client
Central Denmark Region / Aarhus Sygehus
Address
Aarhus, Denmark
Size
5300 m² (of these ca. 1550 m² lab facilities)
Year
2003-2010
The objective is a world-class research environment, focused on research into normal brain functions as well as treatment of neural and cerebral disorders.
The Danish Neuroscience Centre is a new research facility at the Aarhus Municipal Hospital, operated as a partnership between the public hospital and private companies. The centre is located in a new transparent and modern building, as an annex to the Aarhus Municipal Hospitals tall complex at Nørrebrogade and Trøjborgvej. The ground level contains the auditorium and canteen, the upper floors laboratories and offices. The lowest level contains labs, and treatment and examination rooms featuring MR-scanners and 4 PET-scanners.
Team
Client consultant
C.F. Møller Architects are part of the client advisory team, led by Kuben.
Engineering
Søren Jensen Rådgivende Ingeniørfirma
Architect
C.F. Møller Architects, proposal by Aarhus Arkitekterne
Landscape
C.F. Møller Landscape
Artist
Bjørn Poulsen
Benny Dröscher
Ferdinand Ahm Krag
Collaborators, other
Kuben
References
2014 Hospital Design + 2, p.186-190
2009 byggeplads.dk #1, p. 98-101
2004 C.F. Møller: Samfund og Menneske