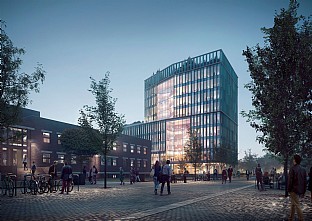 Max Planck Institute Heidelberg
The new Max Planck Institute for medical research will form an anchor point for the university campus, stimulating further innovation for the historic Heidelberg University which has fostered six Nobel Prize laureates.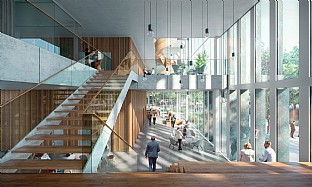 Facts
Client
Max Planck Gesellshaft zur Förderung der Wissenschaften e.V.
Address
Heidelberg, Germany
Year
2019, Competition proposal
Engineering
Bollinger + Grohmann Ingenieure
Architect
C.F. Møller Architects
Landscape
C.F. Møller Architects
Collaborators, other
Laborplaner Tonelli AG Aesthetica Studio
Positioned in the Southwest corner, the Max Planck Institute is the first building you see when entering the Heidelberg University campus. The new institute building is made up of two distinct zones, separated by internal cores and columns on the façade. One zone is for laboratories and the other for office spaces. In the office zone a generous atrium incorporates a sculptural stair which leads to the top floor. Positioned around the atrium, the main common spaces vary in form, with occasional openings which create small coffee nooks and informal meeting spaces. These spaces will ensure communication and interaction between various departments, forming social hubs for collaboration and knowledge sharing. All hallways lead to a common area, or towards the façade, framing a view. Glass walls between the office, laboratory and hallways creates open and attractive working spaces. Timber cladding is placed around the cores for acoustic absorbance, and an improved social work environment.
Planning for the future.
The roof of the new institute building is a lush green rooftop garden, open to all occupants. This area provides a unique vantage point, offering 360-degree views of the campus. Over time this space can be transformed into an extra laboratory as required.
Gallery