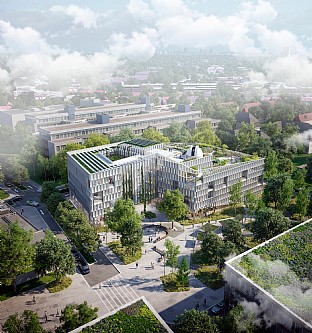 Hamburg Fundamental Interactions Laboratory (HAFUN ), Hamburg University
A landmark for Science City Bahrenfeld research campus in Hamburg, bringing together two research centres in a single building that will house both high-tech underground laboratory facilities and open environments for knowledge sharing and communication.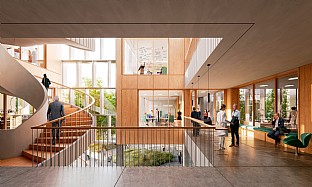 Facts
Competition
1st prize in architectural competition. 2023
Engineering
BZS-Bauphysik GmbH Christian Bonik GmbH Fassadenberatung
Architect
C.F. Møller Architects
Landscape
C.F. Møller Architects
Collaborators, other
BAL, Bauplanungs und Steuerungs GmbH
Awards
1st prize in architectural competition. 2023
The new Science City Bahrenfeld research campus in Hamburg is a "centre of excellence" in Germany and Europe. HAFUN is key in bringing together two research centres and providing facilities with open environments for offices, meeting places and conferences, as well as partially underground laboratories with extremely sensitive equipment for research into, among other things, quantum physics, cosmic radiation and gravitational waves, which require complete shielding from interference and vibrations.
The building consists of two atrium buildings, linked by a corner in each volume. This creates a building geometry like a double loop, which with one unifying facade provides a recognisable and iconic building, which in combination with its landscape design adapts to its surroundings. The building steps down with green roof gardens towards the residential area to the south and opens towards the existing campus to the west. Interconnecting volumes create angles for outdoor spaces around the building with green terraces and gardens that merge with the volumes' courtyards, appearing open and welcoming. Here, the building's entrance is centrally located where the two courtyard buildings are linked.
Rational structure with social nodes
The arrival area consists of a generous foyer extended by an elegant spiral staircase to the roof terraces, allowing visitors to easily access an observatory and outdoor teaching facilities. The link between the two volumes forms the heart of the building, where a centrally located atrium creates a social hub. Conference facilities are located at an attractive street-level corner, where the interior space can be extended with outdoor courtyard spaces. Daylight, light interiors and wooden panels create a pleasant atmosphere and have an acoustic absorbing effect in the atrium, offices and spacious corridors furnished with lounge areas. The interior of the building is based on a rational and flexible structure, with an emphasis on openness and meeting places that encourage knowledge sharing and collaboration.
Gallery