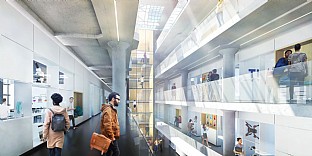 Gemini
Extensive renovation and modernisation of the laboratory and educational building Gemini to comply with future learning and energy standards, based on its special historical architectural character.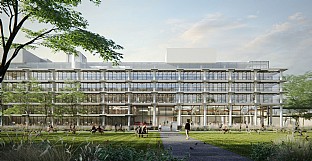 Facts
Address
Eindhoven, Netherlands
Architect
C.F. Møller Architects in collaboration with Barcode Architects
Gemini is being renovated and modernised to fulfil the technical university TU Eindhoven's ambitions within the fields of sustainability, technology, education and research. The new Gemini will ensure that the university is prepared for its future needs, with modern, learning-optimised facilities.
TU/e was designed by the Dutch architect S.J. Van Embden in 1974. Van Embden's architectural vision is retained in the new Gemini, and is apparent from the robustness of the architecture and the exposed structure. A glass façade reveals the structure and displays the building's incorporated technical features, as well as lending transparency to the activity within the building. The new façade and better insulation fulfil modern environmental and energy standards.
Varying ceiling heights allow space for all functions.
The building is divided into two departments: one with administrative functions and another with technical laboratories. In the administrative department, the technical services are run in a side wall in the room, rather than the traditional ceiling installation. This ensures a comfortable ceiling height while also providing space for modern electrical equipment. The technical department is located on the other side of the building, with a height of 1.5 storeys. This gives more space for technical services, machinery and other laboratory fixtures.
The building's central staircase provides a unique outlook on the varying storeys on the two sides. The two departments are connected by several atriums, which bring daylight all the way down through the building. This creates a significantly more energy-efficient structure, while also supporting modern learning and research in a historically important setting, which will continue to be an important part of the university's identity in the future.
Gallery