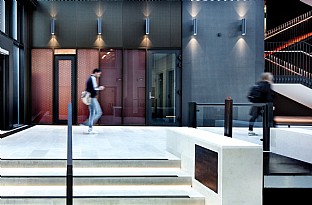 Pharma Science Building
The Pharma Science Building is a new, modern laboratory building for the Faculty of Pharmaceutical Sciences as part of the University of Copenhagen's Faculty of Health Sciences at the North Campus.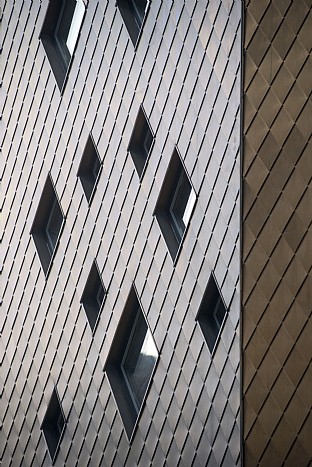 Facts
Client
The Danish Building & Property Agency (BYGST)
Address
Nørre Allé, Copenhagen, Denmark
Architect
C.F. Møller Architects
Landscape
Schønherr Landskab
The Pharma Science Building is to be the focal point for the Health Sciences faculty. New and existing buildings are connected by an atrium and indoor walkways, and interdisciplinary research collaborations between several institutes are made possible by providing new laboratories and shared facilities.
The compact volume is sculpted with a twisted floorplan, which creates a more spacious atrium and provides more facade length within a limited building zone. The facades are clad with a continuous skin of tombak panels in a rhomboid pattern, so that the building appears as a single geometric shape - only interrupted and intersected in strategic, generous openings that allow views both in and out. The dark tombak of the facades will contrast subtly against the existing buildings' light facades.
One of the striking features of the interior of the Pharma Science Building is an opening intersecting all floors. This creates overviews, strengthening the sense of community in the learning & research environment, and provides generous amounts of daylight. The optimized daylighting is one of the key features ensuring that the Pharma Science Building is constructed as low-energy class 2015, with a total energy requirement of max. 41 kWh/m2/year.
Gallery