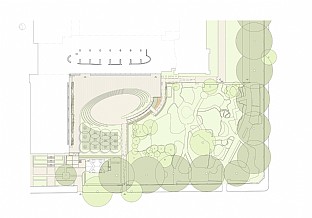 Darwin Centre fase 2, Landschaft
The second phase of the Darwin Centre is an extension of the famous Natural History Museum in London, taking the form of a huge eight-storey concrete cocoon, surrounded by a glass atrium.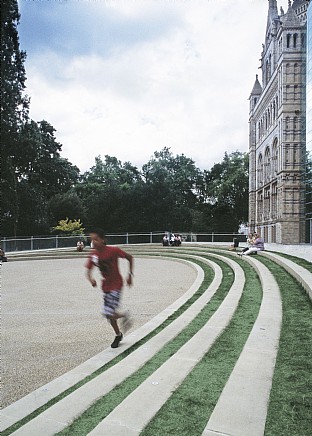 Fakta
Auftraggeber
The Natural History Museum
Adresse
London, United Kingdom
Wettbewerb
1. Preis im Architekturwettbewerb. 2001
Bauausführung
HBG Ltd (main contractor) Blakedown Landscapes
Ingenieur
Ingeniør Arup (konstruktioner)Fulcrum Consulting (installationer)
Architekt
C.F. Møller Architects
Landschaft
C.F. Møller Architects
Weitere Kooperationspartner
Turner and Townsend (cost consultant)
Preise
Civic Trust Award. 2011
Dedalo Minosse Award - Hædrende omtale. 2011
Shortlistet til RIBA Awards i London. 2011
Nominated for the Mies van der Rohe Award 2009. 2008
1. Preis im Architekturwettbewerb. 2001
The landscape scheme for the exterior space of Darwin Centre 1 and 2 creates a setting that integrates the buildings into the larger landscape context. The sunken oval garden deals with the site level changes and acts as an extension of the atrium space creating a dedicated area for events and education.
A tree grove links the garden visually to the adjacent wildlife garden and connects the two spaces by the green canopy and lush ground-cover below. A transparent screen planting against the science labs at the ground floor is achieved by bamboo planting in a narrow alignment with the building at the north side. The all-encapsulating spiraling oval creates a space that geometrically and functionally links the levels and spaces of the wildlife garden, the lawn at the west, and the Darwin buildings in a free flowing form. In this way it underlines the garden as a transitional space in its dual geometry of both enclosing the space and opening it up towards the surroundings.
A broad terrace along the Darwin Centre buildings provides space for activities or elements such as a small café or kiosk inviting visitors to enjoy coffee and rejuvenate. The lower level of the sunken garden can accommodate gatherings and serve as an outdoor space for school classes as well as providing a flexible area for events.