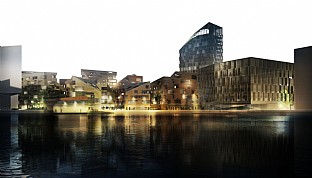 Harbour Stones, Lindholmen, Göteborg
The task has been to design the master plan for a new housing district in the Lindholm area of Gothenburg's old industrial port.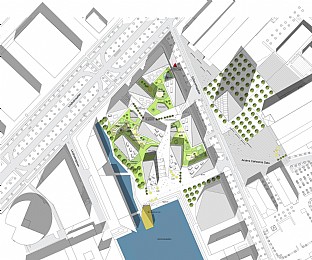 Fakta
Auftraggeber
Norra Älvstranden Utveckling AB, PEAB, Skanska, HSB og Stadsbyggnadskontoret i Göteborg
Fläche
54.000 m² (35.000 m² Wohnbau, 5.200 m² Gewerbe)
Wettbewerb
1. Preis im Internationalem Architekturwettbewerb,. 2010
Bauausführung
Älvstranden Utveckling AB
Architekt
C.F. Møller Architects
Preise
1. Preis im Internationalem Architekturwettbewerb,. 2010
The Lindholm area, dominated by former industrial buildings and shipyards, has been transformed into large-scale business districts and open plazas. The master plan proposal introduces a humane scale and a different architecture focusing on the small-scale urban spaces within the scheme by refining the positioning, geometry and transparency of the buildings.
The scheme consists of 10 sculptural building volumes, varying in height, hence the name Harbour Stones. The scheme includes a tower of approximately 16 storeys which will rise as a landmark. The buildings are designed to maximise the potential for sunlight and views over the harbour, and their facades of re-cycled aluminium make a strong statement with reference to the ship-building history of the site.
Towards the exterior the major urban traits are continued, but the new area opens up inside by means of two public stairs acting as thoroughfares and a third landscaped stair to the waterfront. This creates a micro-climate with sunny, sheltered spaces directly overlooking the harbour, and also opens views out for every resident.
Gallery