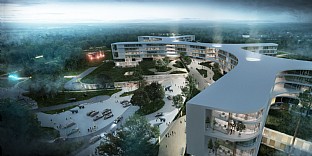 Neues Krankenhaus Nordseeland in Hillerød
Design proposals for north Zealand's new acute hospital will create a new landmark on the lines of Frederiksborg Castle – a hospital where architecture blends seamlessly into the natural surroundings to create a pleasant place for patients and visitors, an eminently functional workplace with sensory appeal and a recreational oasis for everyone living in the local area.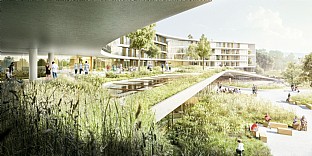 Fakta
Auftraggeber
Region Kopenhagen
Adresse
Overdrevsvejen, Hillerød, Danmark
Projektsteuerer
Cowi A/S, Ann-Pia Puggard
Ingenieur
Alectia A/S, Rambøll A/S og Søren Jensen Rådgivende Ingeniørfirma A/S
Architekt
C.F. Møller Architects i samarbejde med Cubo Arkitekter
Weitere Kooperationspartner
Tekst 1. runde: Christian Bundegaard
Preise
Joint 1st prize, phase 1. 2013
The hospital appears to grow out of a woody copse. Therapy buildings with courtyards and landscaped gardens provide a carpet of greenery around the ward buildings, which look out over accessible green roofs.
The hospital architecture blends human and natural elements consistently, indoors and outside, to create a healing architecture with focus squarely on the patient. The architectural design expression is therefore also based on a soft, organic and humanistic idiom.
Two large arches split the building mass into two less dominant building masses, which mark the entrances – one facing north towards Hillerød and the other facing south-east towards the new station district. The two arches invite visitors inside and make it easier for them to find their way.
An elevated public footpath, inspired by New York's green High Line, leads to the hospital. Pedestrians can choose to walk up over and through the hospital complex. The footpath makes the building open, democratic and accessible to everyone. For example, you can follow the path onto the roof and enjoy the view without disturbing the wards.
Inside the complex, there is a central arrival space, Strøget (i.e. the Main Street), which is the focal point for the treatment floors. There are open, outpatient units at entrance level while the more private inpatient units are located one floor below. Strøget is an integrated flow of plazas, including a children's play area and an amphitheatre ramp, which is intended as a cultural meeting place or as a forum in which to hold research or training meetings.
The compact interior of the hospital ensures optimal functionality, effective logistics and efficient working procedures for staff. There is a smooth flow which ensures that hospital staff have more time for patients and their relatives. The internal structure, with the main thoroughfare and vertical connections leading to the ward buildings, is logical, clear and transparent so everyone can find their way in an ambiance that is secure and welcoming.
All single patient rooms have panoramic views of the landscape from the bed and a homely décor, featuring warm materials (e.g. wood), creating a space that resembles a cosy hotel room.
Gallery