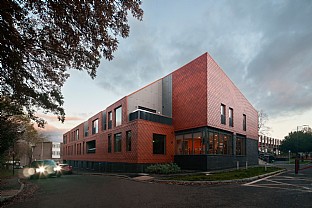 Resource Centre at Coburg Crescent
The new resource centre at Coburg Crescent is a multi-purpose building, its primary role is to act as a day centre for adults with learning disabilities.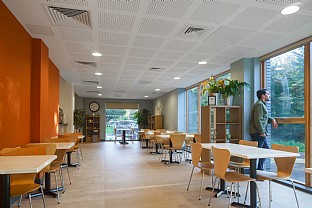 Fakta
Auftraggeber
London Borough of Lambeth
Adresse
London, United Kingdom
Ingenieur
Price & Myers (structure and sustainability) DESCO (M&E)
Architekt
C.F. Møller Architects
Landschaft
Jamie Buchanan Landscape Architect
Weitere Kooperationspartner
Quantity Surveyor: Airey Miller Planning consultant: Dominic Lawson Bespoke Planning
This is alongside providing therapeutical rooms and supported living accommodation, for both long and short stays. The centre also houses a space for the wider community, including a shop and café, offering opportunities of employment to service users and actively highlighting the collaborative culture of the day centre.
The building's form is articulated as a sheltering courtyard with an active, residential-scale street frontage along the Palace Road Estates. The 3 metre fall across site is mitigated by locating the main entrance and protected drop-off area in the lower site in order to provide step-free access. A second main entrance to the most public areas, including the café, community space and shop, is situated on the first floor level street frontage.
The simplicity in the design is characterized by a large sloping roof, which embraces all the different parts and components of the building within one single volume. The upper envelope wraps the top floors and roof by using a single clay tile rainscreen cladding system. Whilst the ground floor plinth level is expressed using contrasting darker brickwork. It is important to ensure that the proposed service facilities move away from older institutional models. We understand it proves essential to provide the maximum flexibility for future service provision and integrate the service users as much as possible within the wider community.
Gallery