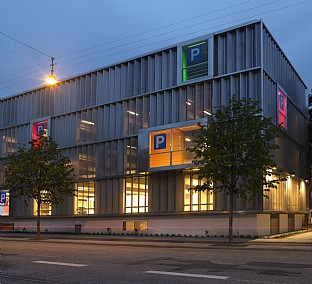 CWO Car Park
The 4½ storey car park completes the urban block structure, with a façade designed to act as a harmonic modern counterpart to the existing buildings.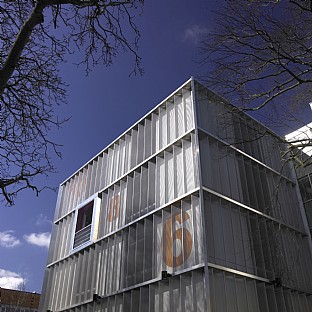 Facts
Client
C.W.Obel Ejendomme A/S
Architect
C.F. Møller Architects
Landscape
C.F. Møller Architects
Awards
Aalborg Municipality Architecture Award. 2010
The layout is adapted to respect the outdoor spaces of the surrounding housing, and to accommodate two important trees on the site.
A transparent appearance with large glazed openings contributes to the liveliness of the streetscape, by allowing light and glimpses of activity to be seen. The facades of the pre-fabricated concrete structure are composed of vertical folded panels of perforated aluminium, with coloured graphics behind, and projecting bay-windows to create variations in the elevation.
Gallery