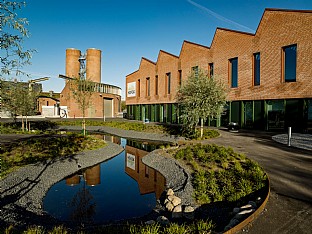 HOFOR Kløvermarksvej, staff building & waste-water pumping station
Denmark's largest waste-water pumping station combines operational solutions with an inspiring physical work environment.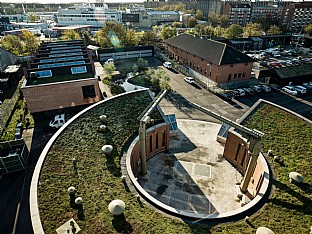 Facts
Address
København, Denmark
Size
7,400 m² newbuild + 21,2000 m² landscape
Client consultant
C.F. Møller Architects
Engineering
Krüger A/S (totalrådgiver), EKJ Rådgivende Ingeniører
Architect
C.F. Møller Architects
Landscape
C.F. Møller Architects
The new pumping station is a distinctive facility which has been adapted to a dense and varied urban context. With the historic pumping station dating back to 1901, the new facility creates a strong architectural link between old and new, urban and technological. The station sets new standards for the creation of sustainable supply solutions in Danish cities, and for combination of the best operational solutions with an optimal and inspiring work environment. With its green roofs, and two distinctive 24-metre tall pressure towers, the new pumping station forms an independent counterpart to the historic pumping station. It's round shape is the optimum form for a pumping chamber and collection tank. The red bricks on the facade reference the brick buildings of the surrounding area. This includes the original 1901 pumping station, and the new staff building which has also been designed by C.F. Møller Architects.
Recreational outdoor areas for the employees
The building provides a framework for its 50 employees who work on waste-water management in Copenhagen, while also meeting specific hygiene requirements.
The distinctive serrated roof and large north-facing skylights provide daylight for the changing and fitness facilities on the first floor, while minimising the amount of the sun's heat from entering through. On the ground floor the workplaces face east and west, to avoid direct sunlight, whilst a double-height canteen faces south and opens onto a small garden. Investment in an innovative rainwater solution future-proofs the area against cloudbursts. This involves rainwater from the buildings' green roofs running into three circular reservoirs with special water-loving marsh plants, and the inclusion of willows which adorn the forecourt. Collection of roof and surface water has been conceived as a crucial component of the area''s operational and visual profile. Recreational outdoor areas for employees incorporate a number of rain beds, which significantly reduces the facility's overall reinforced area.
Gallery