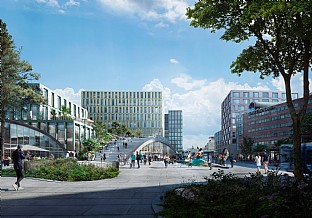 Centralstaden - Stockholm Central Station
Centralstaden interweaves travel, work, housing, culture and business into a forward-looking robust hub by uniting past, present and future under the motto "Celebrate Stockholm!"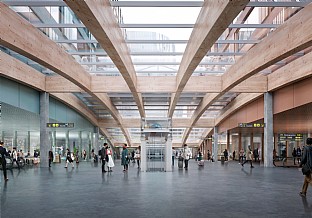 Facts
Architect
C.F. Møller Architects in collaboration with Elding Oscarson and Warm in the Winter
Landscape
C.F. Møller Architects and AJ Landskap
Stockholm Central Station is Sweden's most visited place and the development of the station and its surroundings will bring the city together and support increased sustainable travel. The proposal creates new places full of character, prioritises pedestrians and transforms cluttered environments characterised by car traffic. The city's new and reimagined green spaces will emerge, with the terraces becoming an extended part of the city's greenery. Fine, sunny places for recreation link Stockholm closer to the world.
A welcoming station and three new urban districts
The new modern station complex respects the cultural and historical values of the existing station and is inspired by its form and symmetry. The aim is to create a climate-neutral building with timber structures as the primary construction material.
Three new city quarters will be created, and between them streets, alleys and squares will be formed, all picking up themes from Stockholm and its adjacent archipelago. These places are filled with greenery, water and public spaces, giving this central area a vibrant urban life once again. The buildings, oriented along the railway line and Klara Lake, are carefully placed to create long views along the area and fine vistas across it. They are clearly legible while humbly taking their place in their historical context. The plaster and stone facades carry the colours of the surrounding city.
A guide to the future
The new Centralstaden is characterised by a focus on sustainability and climate change. Not only in terms of the new building's carbon footprint in production and operation, but also programmatically and culturally. The structure of Centralstaden and its geographical location give it great potential to accommodate companies, businesses, institutions and people driven by the common ambition to strive for a better world. A new industrial hub for sustainability can be created on top of Sweden's most publicly accessible location.
Gallery