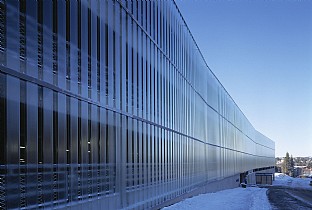 Akershus University Hospital (Nye Ahus), multi-storey car park
Multi-storey car park with room for 1300 cars.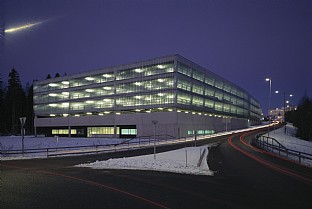 Facts
Client
Akershus Fylkeskommune
Address
Nordbyhagen, Norway
Construction
AF Ragnar Evensen AS
Engineering
RIB/RIT: SCC Scandiaconsult AS RIB-R: BST - Brann og sikkerhetsteknikk AS RIV-R: Technoconsult RIV-V: RG Ventilasjon AS RIE: EDA Nils Nilsen AS
Architect
C.F. Møller Architects
Landscape
Grindaker AS Landskapsarkitekter MNLA
The multi-storey car park at Akershus University Hospital has room for approximately 1,300 cars, and is used by the hospital's staff and visitors. A key goal of the design was to create a spatial and structural relationship between the car park, the course of the road, and the University Hospital complex itself. The building follows the gentle curves of the road, and is equipped with transparent facades in three storeys. During the day, the glass slats provide natural light inside the building and present a dynamic facade outwardly which reflects the varying light. At the night the building has luminous facades.
Gallery