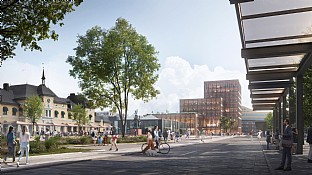 Uppsala Central
A new development plan for Uppsala C with the aim of creating a vibrant meeting place, and at the same time an attractive and efficient transport hub. The plan includes a new train station, the track area and the city centre adjacent to the station area.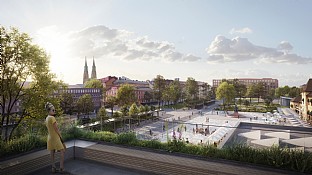 Facts
Client
Uppsala Kommun och Region Uppsala
Address
Uppsala, Sverige, Sweden
Architect
C.F. Møller Architects
Landscape
C.F. Møller Architects
Collaborators, other
WSP, Jernhusen
Uppsala is growing and more people are moving into the city, which means that new housing must be built and more businesses must be accommodated. At the same time, increased capacity for rail traffic to the area is essential for a prosperous and long-term urban development to be possible. The East Coast Railway needs two new tracks and public transport needs to be expanded, with Uppsala Central at the centre of all this. By 2050, Uppsala is expected to have up to twice as many train passengers, which is in line with the ambition for the municipality to be fossil-free by 2030 and climate-positive by 2050.
The development plan proposes a new station building with offices, station functions, meeting places, restaurants and shops, as well as a new modern bicycle garage for all Uppsala's commuters. With vibrant ground floors and frontage in all directions, a pleasant and safe place is created even during off-peak hours. Together with proposals for other additional office buildings next to Uppsala C, and a series of new place formations, safety is increased by creating additional movement around the area.
A future-proof plan with a focus on green strategies
The vision for the new station area is a vibrant, sustainable and green urban environment. Planning with green urban elements in mind is an important prerequisite for sustainable urban design and for the goal of slowing down climate change. The plan proposes a variety of green-blue solutions that together contribute to a socially, economically and ecologically sustainable city.
The development plan thus describes a vision in which Uppsala C is linked to the city's destinations via green corridors. In connection with the station area, destination points and place formations are created where social interaction and business opportunities are central. The public environments provide a variety of activities where people of all ages feel comfortable and safe. Squares, streets and parks will provide a vibrant urban environment, while preserving existing natural values and adding new values such as integrated ecosystem services and quiet enjoyment.
Gallery