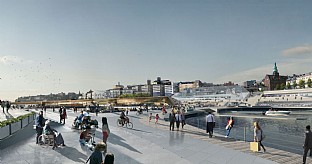 Slussen Stockholm
The master plan for Slussen will convert one of Stockholm's central waterfront areas from a labyrinthine traffic hub into a new and dynamic social meeting point, with access to recreational activities around the clock and all year round.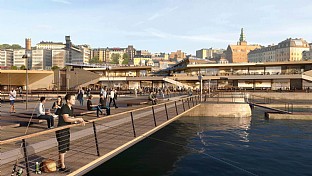 Facts
Size
130,000 m² - planning area
Competition
1. prize in competition. 2009
Engineering
ELU, Tyréns, Sweco
Architect
C.F. Møller Architects in collaboration with Foster + Partners
Landscape
White Landskap, Space Scape
Awards
1. prize in competition. 2009
The plan includes the harbour areas in historical Gamla Stan and Södermalm, with the Sluice between the Baltic Sea and the Mälaren lake at its centre.
From a concrete maze of roads, the two quarters of the city will now be connected by bridges for pedestrians and cyclists, a mix of new public squares and an open and accessible waterfront with striking architecture.
At the heart of the new urban space is an exposed water table in the form of the Sluice's two run-off basins. The water square is a pedestrian precinct that is enclosed by the new bridge links and brought to life by the new bars and restaurants along the waterfront.
A recurring element of the master plan's architecture is transparent façades - with an emphasis on inward and outward views, creating strong interaction between the life of the square and the waterfront's new indoor settings. A striking green element is a small park with a panoramic view of the water and the harbour traffic.
The basis for Slussen's transformation is a radical change in the traffic structure - from a labyrinthine network of roads to a newer, simpler structure that focuses on pedestrians and cyclists, rather than car traffic. The new traffic hub will also facilitate access to the subway station, bus station and waterfront.
Gallery