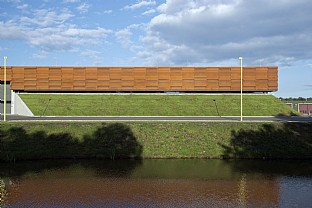 Compressor station Egtved
The natural gas plant consists of four compressor units and service buildings, supplying the central intersection of the gas pipelines connection north-south from Germany and east-west to Sweden.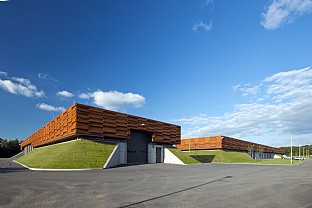 Facts
Size
4,600 m² new-built and 20.000 m² compressor station, 15 ha masterplan
Client consultant
Niras A/S Allerød
Construction
Joint Venture Aarsleff-Streicher-Bunte I/S
Architect
C.F. Møller Architects
Landscape
C.F. Møller Architects
The idea has been to create a harmonious integration with the surrounding landscape, and at the same time optimize the safety of the layout. Therefore the service buildings provide a unifying green 'rampart' around an open functional surface on which the individual compressor units are located.
The 'ramparts' around the compressor units consist of two parts: A simple concrete structure with a continuous grass surface forms the base which gives the building a landscape-like expression, and floating on top of this is a volume clad in a rust-coloured, facetted cor-ten steel skin. The cladding panels combine to form a varied pattern of light and shadow that makes the facade to appear lively. The combination of materials aims to make the buildings appear rugged and elegant at the same time.
The buildings are designed to provide visual, aural and safety screening from the compression units. They also provide a natural transition zone between danger and non-danger areas, ensuring the upholding of integral safety procedures in the operation.
Gallery