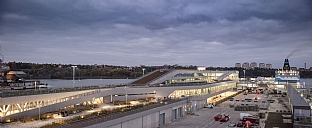 Värtaterminalen Ferry Terminal, Stockholm
The new terminal for Stockholm's permanent ferry connections to Finland and the Baltics is a landmark for the new urban development Norra Djurgårdsstaden - both architecturally and environmentally.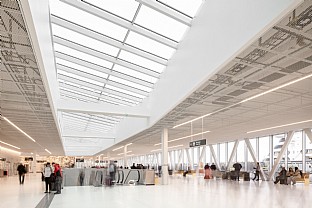 Facts
Client
Stockholms Hamnar AB
Size
16,000 m² and a new customs area of 1,100 m²
Competition
1st prize in international competition. 2010
Architect
C.F. Møller Architects
Landscape
Nivå Landskapsarkitekter
Artist
Arts curator: Stockholm Konst Artists: Lisa Gerdin, Hans Rosenström, Matthias van Arkel och Pia Törnell
Collaborators, other
Black Ljusdesign, Brandskyddslaget, Bbh Arkitekter & Ingenjörer
Awards
Green GOOD DESIGN™ Award. 2017
Nominated for the Swedish Transport Agency's Architectural Award. 2017
Steel Construction Prize - Commendation. 2017
The Plan Award - Honourable Mention. 2017
WAF Award - shortlist. 2017
Shortlisted for the WAN Awards - Transport Sector. 2013
1st prize in international competition. 2010
The terminal recalls the shape of a moving vessel and the architecture - with large cranes and warehouses - that previously characterized the ports. At the same time, the terminal has an ambitious sustainable profile, characteristic of the entire development. The main idea has been to create natural links between central Stockholm and the new urban area in connection with the terminal, so that city life will naturally flow into the area. Therefore the terminal is raised to be at level with the urban zone, so it is easy for both pedestrians and traffic to access. At the same time the roof of the terminal building is designed as a varied green landscape with stairs, ramps, niches, and cosy corners, inviting both Stockholmers and passengers for a stroll or relaxing moments, while enjoying the view of the ferries, the archipelago, and the city skyline.
Solar energy and geothermal heating/cooling are provided via the building's integrated systems, making the terminal self-sufficient in energy. Värtaterminalen will receive the environmental certification level Gold.
Gallery