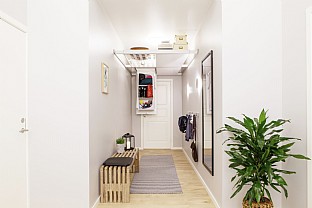 BEAM-IT-UP
BEAM-IT-UP is an innovative concept that creates new storage options in small and narrow spaces such as hallways and corridors.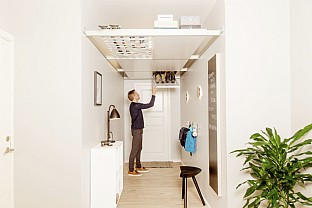 Facts
Product Design
C.F. Møller Architects
BEAM-IT-UP is a smart, functional storage solution that is hidden away under the ceiling. The system consists of wall rails, adjustable cross-rails and storage modules that make it easy to get clutter under control and it fits into almost any small space with two parallel walls. You can choose different storage modules, all of which are adapted to each other and are mounted under the ceiling. Stable shelves, storage nets, smart shoe boxes and storage modules that are tilted down from the ceiling to a convenient access height, providing extra space when you need it.
One wall rail and you're off. The possibilities are then endless. In its simplest form the wall rail can be used as a hanging rail.
Rising prices per unit area and changing family patterns create pressure on the use of living space in small homes in big cities. There is a need to take advantage of space in new and smarter ways, and this has been the inspiring challenge in designing BEAM-IT-UP, which merely assumes a minimum floor-to-ceiling height of 245 cm.
BEAM-IT-UP has been created with a focus on high usage value and a simple, lightweight, uniform design that enables you to install BEAM-IT-UP in many different types of housing and space.
Gallery