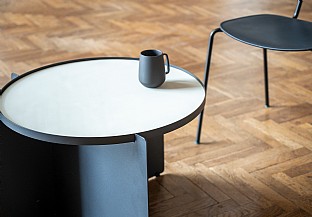 SVIP side table
The SVIP side table is a reinterpretation of the traditional tray table, designed and crafted to be sculptural, practical, and durable.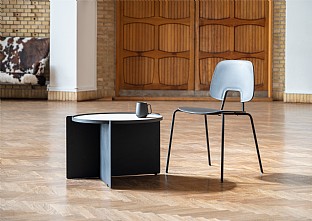 Facts
Architect
C.F. Møller Architects - Industrial Design
The SVIP table can be used as a low table in, for example, the living room or bedroom. At the same time, the SVIP table has a significant functional aspect in the tabletop, which can be lifted from the base and used as a tray for serving or clearing.
The overall design approach stems from the idea of creating a three-dimensional object by assembling two-dimensional pieces forming the base, which consists of two steel plates with asymmetrically placed slits that slide easily into each other and lock with a ring for a stable construction. The base forms an asymmetrical X, which together with the circular tabletop makes the SVIP table appear playful and sculptural, without compromising its practical function.
The steel tray comes with a light grey mat in specially made rubber for a more practical finish or for changing the expression of the SVIP table.
A modern table where technical, functional, and aesthetic all come together.
The SVIP table was designed for the interior manufacturer Gejst.
Gallery