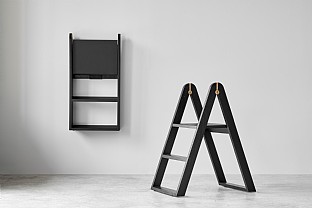 REECH Step ladder
The REECH step ladder is foldable and designed to hang on the wall, so it's always close at hand.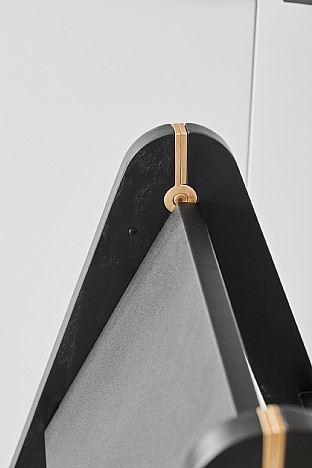 C.F. Møller Architects has prioritised a simple design that combines good, functional qualities with a beautiful and graphic expression, whether REECH is unfolded on the floor or hanging on the matching wall bracket.
REECH step ladder is a practical, small piece of furniture for the home; designed to make everyday life easier and more beautiful. REECH is ideal in any room of the house helping to reach the top shelves and cupboards, but it can also be used in the corner of the living room forwith a plants, as extra seating, or in the kitchen when the children help with the cooking.
Wholeness and detail
The design is simple and logical to make the use intuitive. REECH is constructed as two black-stained oak frames, joined by brass hinges where the frames meet. When unfolded, the stairway is therefore perceived as an unbroken band with a triangular side profile, securely fixed by the stairway's upper deep tread in curved and lacquered steel plate. When the ladder is folded, the same step is held in the vertical position by a discreet integrated magnetic solution.
The REECH step ladder is the latest addition to the range of small furniture and accessories, C.F. Møllers Architects has designed for Gejst.
Gallery