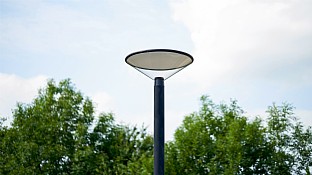 Quintus L500 – LED Lamp
Road and park lamp with energy-efficient LED technology and a design that fits into different urban environments and surroundings.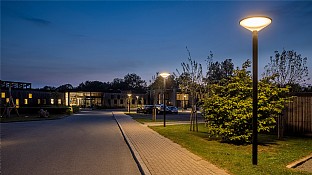 Facts
Architect
C.F. Møller Architects
Product Design
C.F. Møller Architects
The QUINTUS L500 lamp has a simple and timeless design. In the dark, it lights up as a triangular beacon. During the day, it stands simple with few elements, allowing light, nature, and architecture shine through the transparent shade.
Broad Applicability
The clean lines of the lamp create an atmospheric and coherent impression of both residential and urban areas. With its simple and understated appearance, QUINTUS L500 blends naturally into different environments from residential streets and blocks, to pedestrian streets and city squares. The efficient and glare-free light also makes QUINTUS L500 suitable for parking areas and other areas that requires strong lighting.
Technology and Materials
QUINTUS L500 is equipped with energy-efficient LED technology, which is concealed in the pole. The LED light source illuminates the reflective inner shield of the top, which distributes the light evenly downwards with a low level of light pollution. The LED light source shines upwards towards the reflective cover, to ensure that the QUINTUS L500 distributes the light evenly and with a low degree of light pollution.
The top cover is made of rotationally moulded plastic material, while the transparent screen is made of impact-resistant UV-resistant acrylic. The top piece, between the mast and the screen, is made of gravity die-cast aluminium which is powder coated black as standard. The mast is made of galvanised steel, which can be powder coated.
Gallery