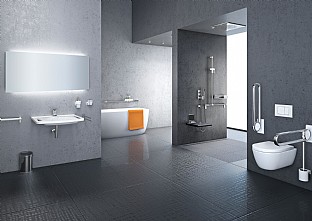 Cavere - Care Solutions
Cavere is an extensive line of high quality aluminium bathroom accessories. Some Cavere articles are also suitable for use elsewhere, e.g. in the kitchen.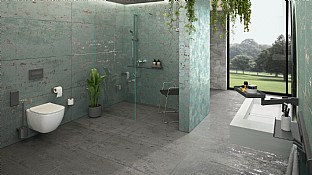 Facts
Product Design
C.F. Møller Architects
Awards
Iconic Award. 2021
Designpreis Deutschland, Nominee. 2011
Red Dot Design Award. 2010
iF product design award, 2011 & 2012
The line was originally designed to make life easier for the elderly and physically challenged. With its simple, elegant design expression, the range appeals to everyone who appreciates an aesthetically pleasing bathroom interior.
The line (comprising more than 50 articles in all) includes everything from specific aids, such as a bath chair and handrails, to the ordinary features of any bathroom, such as a soap dish, toothbrush holder and toilet brush. Glass shelves, towel hooks and a wall-mounted folding seat are just three examples of articles in the Cavere line. These accessories enhance bathrooms but can be fitted anywhere.
With its simple design expression, Cavere blends seamlessly into different room styles. Cavere is easy to clean and easy to install. Several articles, including the handrail, feature a triangular gripping profile. Research findings indicate that a triangular gripping profile is the best combination in terms of strength, comfort and ergonomics.
Gallery