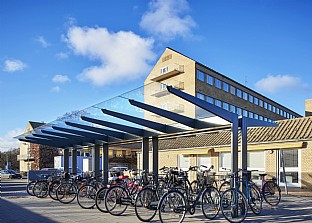 Urban furniture for the Aarhus Light Rail
C.F. Møller Architects has designed a complete line of equipment for the arrival areas, on and outside the light rail stations, for the new light rail in Aarhus. The ride with Denmark's first light rail starts and ends here before the trip continues on either foot, bus or bicycle.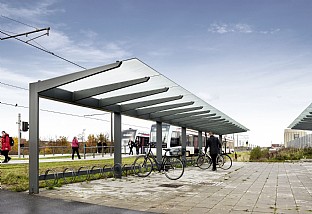 Facts
Product Design
C.F. Møller Architects
The line includes bicycle shelters, windbreaks, bicycle stands, bollards, benches and pump stations. There is a clear connection between the new line of equipment and the original design concept of the light rail, at the same time, the new designs appear with a strong independent identity and a convincing consistency between the individual products.
The overall design idea is based on the interaction between column and bracket. The broad, slim column, can be viewed as a diagrammatically simplified metaphor of the light rails. It further constitutes the robust, structural base for all of the series' elements. The column is combined differently with the hanger, which will appear light and transparent while serving various practical purposes, such as armrest, vandalism protection features, cycle stand and anti-theft protection.
Gallery