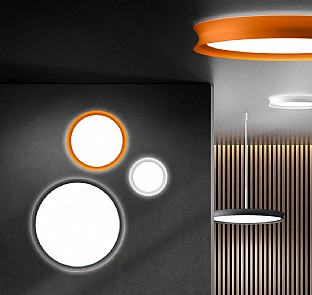 YoYo - range of indoor lighting fixtures
YoYo is an innovative range of indoor lighting fixtures that, with their 50mm height, eliminate the need for installation and solve many types of lighting tasks. The lamp is of high quality, with a sophisticated lighting technique.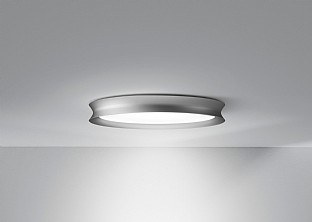 Facts
Manufacturer
Focus Lighting A/S
Architect
C.F. Møller Architects - Industrial Design
The installation or mounting of fixtures in the ceiling and walls is a classic dilemma when choosing fixtures in the work of lighting rooms. YoYo mounting fixtures are just 50mm high, which in most situations eliminates the need for installation considerations.
The lamp's name, YoYo, is inspired by the round shape of the fixture, which is combined with a characteristic parabola-shaped edge that ensures a stimulating tension between the familiar and the new. The soft, curved edges mean that the fixture is shaped by both artificial light and daylight and is experienced differently depending on the time of day and year.
The shape and lighting technique of the fixture was developed in a close and constructive partnership with Focus Lighting. One of the ambitions has been to fully utilise the space-saving potential of the small and long-lasting LED light source. Amongst other things, we have succeeded in lighting the edge of a so-called light-guide plate that guides the light and effectively reflects it downwards with the help of a top reflector. In this way, the height can be reduced but the light is still experienced evenly and coherently without markings of any kind.
Consistent lighting design
The series is available in three diameters with two types of screens, all of which can be used for ceiling and wall mounting, and also as a pendant for the largest variant. The entire series solves the lighting task in many types of rooms, making it possible to design a building with a consistent and coherent lighting design. The fixtures are made of cast aluminium and manufactured in Denmark, and as such are designed to be sustainable in terms of construction, logistics and lighting technology.
Gallery