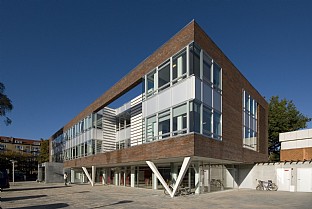 Dän. Muskelschwundstiftung, Hauptsitz
The law of gravity seems to have been repealed at the new domicile for the Danish Muscular Dystrophy Foundation (Muskelsvindfonden), where slender, V-shaped concrete legs bear the building's three brick storeys. This structure is an important part of the architectural expression, but is at the same time a practical solution which provides maximum accessibility for wheelchair users. Other examples of disabled-friendly design include voice-controlled lifts and easy access for wheelchairs to all rooms.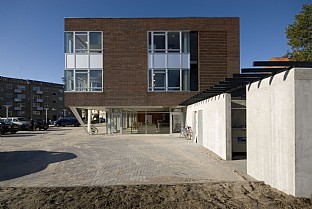 Fakta
Auftraggeber
Dän. Muskelschwundstiftung
Bauausführung
NCC Construction Danmark
Architekt
C.F. Møller Architects
The exterior walls on the ground floor have large glass panels, which help to make the building appear friendly and helpful. On other storeys, the facade has red brick walls and windows matching those of the surrounding buildings.
Gallery