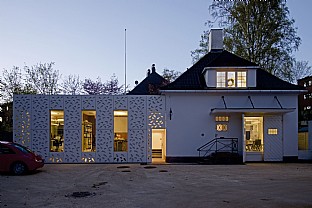 Norwegian-German Chamber of Commerce
Architectural quality, flexibility in use and cost control were important success criteria for the extension of the Norwegian-German Chamber of Commerce in Oslo. C.F. Møller Architects undertook the restoration and remodelling of the main building, and the extension and transformation of the porter's lodge.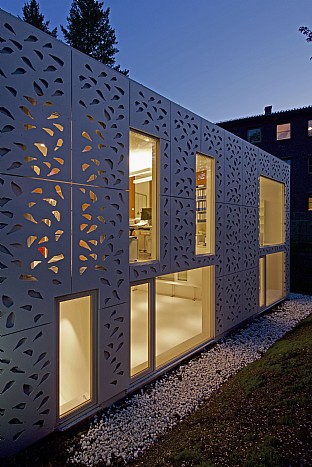 Fakta
Auftraggeber
Deutsch-Norwegische/Tysk-Norsk Handelskammer
Architekt
C.F. Møller Architects in collaboration with Dahle & Breitenstein (a part of C.F Møller since 2012)
Preise
Nominiert für Oslo Stadtarchitekturpreis. 2017
The Norwegian-German Chamber of Commerce is located at Drammensveien 111B in Oslo, in two white brick Art Nouveau buildings from 1912-1918. Both the site and the buildings – a former embassy building and a porter's lodge – are protected by Norwegian law as a cultural heritage monument. This set the framework for the restoration of the existing buildings, as well as the project design of the extension. The project's client, Norbert Pestka, spent a lot of time finding the right architect and contractor for the task, to ensure a good result. He concludes that "we are very pleased, and the good cooperation between architect and entrepreneur has been vital to achieving such a good result." "The good cooperation and dedication have also saved us many hours of work," says Pestka.
The extension of the porter's lodge is designed as a sharply-cut prism, as a contrast to the original Art Nouveau buildings. The new building mass has a main floor at the level of the porter's lodge, as well as a lower ground floor. The surrounding terrain has been excavated on two sides to bring light into the conference venue on the lower ground floor. The facade of perforated fibre-reinforced concrete with nature motifs in Art Nouveau style creates a link between the new and the old, and serves as both solar shading and privacy shielding. The entrance highlights the meeting between the buildings, and there are precise details in the extension's encounter with the ground, roof and existing building.
Gallery