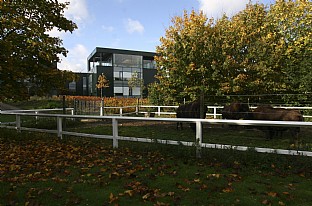 Egetæpper - Extension
In 2006, an extension of the Ege Carpet factory complex with new showroom, office area and meeting facilities was added. The extension building ties in with the existing architecture in terms of colour and cladding, but also presents a distinct appearance - as the new reception point for customers and business partners – by being one storey taller than the rest. The extra level contains a roof pavilion and several roof terraces, overlooking the plant and the surrounding woodlands wherein the parking area is nestled.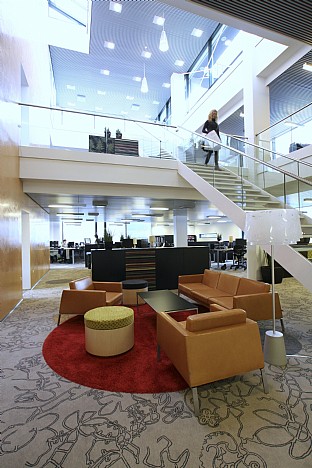 Fakta
Fläche
930 m² + 100 m² rebuilding
Architekt
C.F. Møller Architects
The office layout enables a creative organization, with a connecting flight of stairs. The interior design, made in close collaboration between client and architect, highlights the companies' own bespoke carpet designs and features lounge furniture and lighting fixtures designed by C.F. Møller Architects.
Gallery