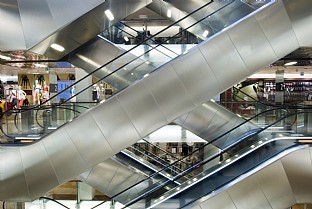 Salling Kaufhaus - Erweiterung
Salling department store is located in the middle of the main pedestrian shopping street, Strøget, in Aarhus, where over the years it has become an important part of the street's identity. The extension is divided into six storeys, one of which is underground, and has been built in extension of the existing building on two neighbouring plots along Strøget. The project will also mean a restructuring of the existing storeys and entrance areas, and a total facade renovation for the entire building.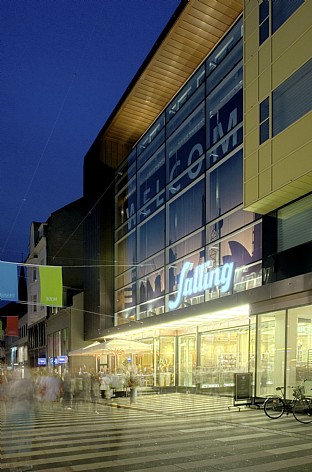 Fakta
Auftraggeber
F. Salling A/S
Fläche
9.000 m² Erweiterung, 11.000 m² Umbau
Wettbewerb
1. Preis im Wettbewerb. 2003
Architekt
C.F. Møller Architects
Preise
1. Preis im Wettbewerb. 2003
The main motif in the extension is a gigantic, copper-clad massif that dominates the facade towards Strøget. A new openness has been created in the interior, with an atrium in the heart of the building that links all the storeys via a section through the floors, and which also contains escalators. The existing building facades have been replaced with new ones, with a design that draws inspiration from the characteristic divisions of the existing facades.
Gallery