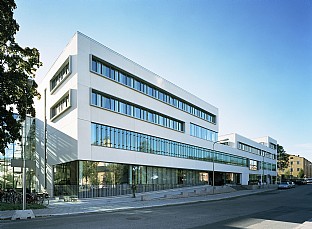 Wehrakademie | Aussenpolitisches Institut in Stockholm
The new educational facilities for the Swedish National Defence College and the Swedish Institute of International Affairs are located in shared premises on the campus of the Royal Institute of Technology, Stockholm.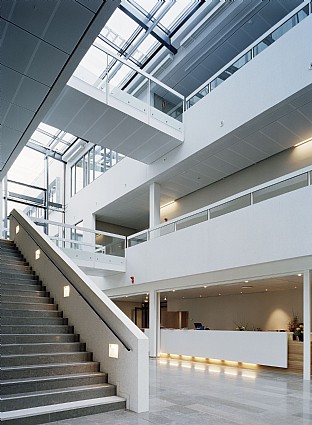 Fakta
Auftraggeber
Akademiska Hus
Adresse
Stockholm, Sverige
Fläche
20.000 20.000 m², hiervon 4.000 m² Umbau
Wettbewerb
1. Preis im Architekturwettbewerb. 2002
Architekt
C.F. Møller Architects (ehemals Berg Arkitektkontor, seit 2007 ein Teil von C.F. Møller Architects)
Landschaft
Naturvårdsbyrån
Weitere Kooperationspartner
WSP Elteknik, TQI
Preise
1. Preis im Architekturwettbewerb. 2002
The building radiates a sense of architectural openness and belonging towards its surroundings and the campus area. The fundamental concept is of dedicated office wings which meander vertically and horizontally, thereby creating intervening spaces of various sizes in which common areas and larger halls are located.
The project includes a new building and the rebuilding of an existing, adjoining building. The program is tailor-made for the organisations, and includes a library, auditorium, teaching rooms, relaxation areas and offices.
Gallery